The Grand Parade for Dundas Manor Tops $100,000 …. So Far!
The sun was shining, and the walkers were smiling as The Grand Parade wound through Winchester on September 16th. Teams of walkers, dressed in everything from tutus to a strong man costume, waved flags and raised tens of thousands of dollars for the new Dundas Manor Long-Term Care Home.
At the end of the day, more than $100,000 had been given by our generous community! Here are a couple of great examples!
Betty and Al McRoberts were part of the Beachcroft Caring Seniors team and they rode over to the parade on their scooter built for two. "Tom Clapp invited us and we decided to decorate our ride and take part," noted Al. "Our daughter-in-law had wonderful care at Dundas Manor and my dad was there for a short while as well." Their team raised more than $4,000.
The Hanoski Family brought the circus to the parade – from ringmaster Xander and Wolf Baby Nancy to the bearded lady and a gypsy. This team of 10 raised more than $1,500. "The Hanoski Family Circus is the name of our family group chat so we thought it worked for the parade too!" laughed one member, dressed as the strong man.
"We are thrilled to have reached $100,000 and to be the #1 parade in Canada," notes Campaign Assistant Cindy Ault Peters. "But we're not stopping there. Donations can still be made to The Grand Parade at www.thegrandparade.org/winchester. The final tally will be announced in early October. Thank you so much to everyone for your support!"
"It takes a village and we are ever so close to turning the sod for the new home," summed up CEO Cholly Boland, pointing to the empty field behind the crowd where the new home will be built. "Thank you to our wonderful community and all of you. There is magic here today in addition to the magic that happens every day at Dundas Manor."
For more information about the Expanding the Circle of Compassionate Care campaign, please visit www.dundasmanordream.ca or contact the WDMH Foundation team at 613-774-2422 ext. 6162 or 6169.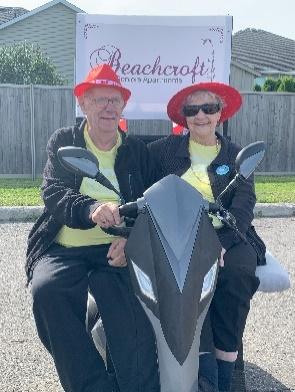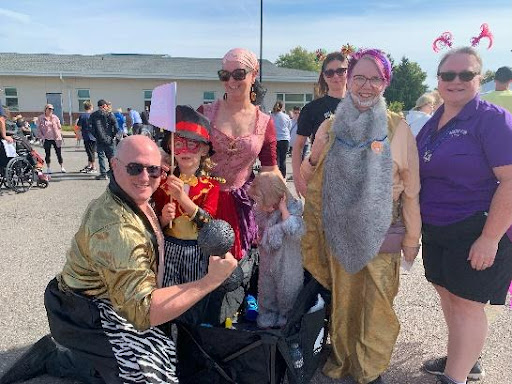 The Hanoski Family Circus looked the part!