Gail Beking isn't surprised that Dundas Manor has been awarded Accreditation with Exemplary Standing from Accreditation Canada. She sees the amazing care that is provided every day to residents – including her father, Allan Murray.
In fact, Gail can't contain her enthusiasm: "Dundas Manor is excelling at their job. Dad would not be walking, if not for the physiotherapy. Dad would not be eating, bathing and toileting himself, if not for the help of the food services, nursing, and personal support worker teams. He would not be going to the activities, if not for the activities team and the behavioural support team encouraging him to do so. He would not be sleeping in a nice clean room and bed, if not for the housekeeping team. This home would not function as well, if not for the ability of the administrative team to constantly communicate effectively with residents and their families. Dad has thrived in this environment, and I can say with confidence and gratitude that Dundas Manor deserves the recognition it has received. Congratulations!"
The Accreditation Canada surveyors who visited Dundas Manor agree: "Despite the challenges associated with the aging physical infrastructure, it is well-maintained and has implemented a hazard and risk reporting process to identify, manage, and address risks. Leadership and the Board have been ardently planning the redevelopment of the site with a new building, designed to accommodate 128 residents. It is intended to commence – with shovels in the ground – in August 2023."
"Just think what we will be able to do with a beautiful new building – with additional space, privacy and so much more!" adds Lisa Little, Chair of the Board of Directors. "This will be the last accreditation survey in this building, and it tops off 45 years of caring here. We can't wait to welcome everyone to our new home."
This is the third time in a row that Dundas Manor has been awarded Accreditation with Exemplary Standing from Accreditation Canada. This is the highest level of Accreditation and is awarded to organizations that go beyond the requirements and demonstrate excellence in continuously improving resident care. "This is a milestone to be celebrated, and we congratulate you and your team for your commitment to providing safe, high quality health services," notes Julie Langlois, Chair of the Accreditation Decision Committee at Accreditation Canada.
In the report, the surveyors noted:
Staff members are caring, compassionate, and committed to the residents and families they serve.
Through interviews, residents and families told us of their high regard for the leadership and staff – and expressed gratitude.
Community partners hold a positive opinion of the home, believing that people are treated with dignity and respect, and the organization has an excellent reputation within the community.
The leadership team is actively seeking innovative approaches to workplace recruitment and retention.
"I want to express my immense pride and gratitude for the Dundas Manor team," notes Administrator Susan Poirier. "You have persevered throughout the pandemic and continue to provide excellent, quality care to our residents. Magic happens at Dundas Manor every day and you should be proud of everything you do!"
"Thank you to each staff member, physician, family member, volunteer and community member who was part of the Accreditation process," sums up Board Chair Lisa Little. "We know that the Dundas Manor team goes above and beyond every day to bring quality care, happiness, and joy to our residents. This type of national independent review confirms it!"
Accreditation through Accreditation Canada is a voluntary exercise that reviews a healthcare organization's care and services. It includes an intensive self-assessment, a survey site visit with a team of health care professionals and a comprehensive survey report. The process also involves interviews with residents, staff, physicians, volunteers, families, Board and community members. The survey took place in April.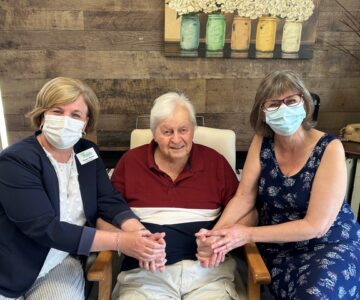 Celebrating the Accreditation Survey results are (l-r): Administrator Susan Poirier (left), Gail Beking (right) and her father Allan Murray who is a Dundas Manor resident.